The truth is that everyone wants to have furniture in their homes, offices, hotels restaurants and other places like that, regardless of the quality of where it comes from. Without furniture, no home, office, school and others will be said to be complete.
Furniture business is yet to develop in Nigeria as it is in other developed countries. Apart from the Alaba traders and some other few furniture dealers here and there in Nigeria, you can hardly see any serious furniture showrooms within the cities. This means great business opportunity exists in this sector.
There are various forms of furniture used for different purposes and that is the reason why the furniture making industry is said to be a thriving and highly profitable business.
If you are entrepreneur looking for a business to start, one of the businesses that can guarantee huge returns on your investment is furniture making business. Starting a furniture making business requires you to at least little technical skills about furniture. e.g qualities of leathers, woods and some other things; you would need to learn about the trade.
What It Takes to Start Furniture Business in Nigeria.
Once you have the requirements, starting is not difficult at all. It's a straight forward business that you may never need any help or spacial knowledge to get started. Below are some of the things needed to get started.
1. Showroom – Furniture is space consuming, although depending at the level at which you want to start the business. You need a showroom to be able to display your furniture to the public.
Make sure it is by the roadside for passerby to see them. Advertising is everything in business, if your furniture is hidden, no one will see them and you wouldn't make a sell. You must by all means get your product where people can see them for you to make sells.. Visit places where they sell furniture to get a clearer picture of what I'm talking about.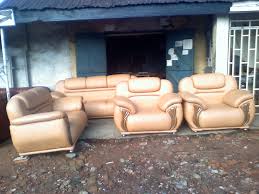 Space is everything in this business and once you have it, you have everything.
2. Experience Furniture Technician – The furniture technicians do the setup. All the imported furniture comes in packages. Unpacking and setting it up the way it should be.
Look For a Good Carpenter
Every Carpenter can hold hammer and nail but not every Carpenter is capable of producing good quality furniture job. Some Carpenters are very good at producing good furniture job but not all of them can deliver it on time. Very few does! Look for one or two among these few and negotiate good deal with them.
They will be responsible of supplying you the furniture you'd need to sell to your customers. A full set of Living Room Chairs (N70,000), 2 Beds (N40,000), and a Dinning Set (N20,000) is all you need for a start. You may add very good Foams on those Beds which you're going to sell together with the beds and make profits from both.
3. Logistic (Delivery) – Means of transporting furniture's  to your customers from the market. You need to get a big truck for this purpose. But if you can't, then you make use of hired truck which will be more expensive in the long run.
When you have these things in place, you are ready for business but don't forget that your Customers are the lifeblood of your business, give them good services and treat them well.
Please follow and like us: