The high demand for ice blocks for cooling has created a booming business opportunity in cities, towns and villages across Nigeria. In the midst of all the hustle and bustle, we often dehydrate under the hot weather and will need something chilled to refresh, usually water, juices or soft drinks. At home, the electricity supply problem is forcing households to use ice blocks to preserve their food and drinks.
With iced block business, you can make up to N150,000  or more profit a month, acquire properties  and achieve other things that matters to life, this means it is a profitable venture.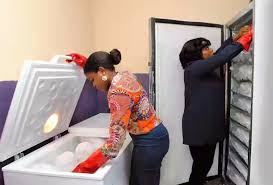 Reasons for high demand of ice block:
Weather
African continent enjoys more direct sunlight and heat compared to the temperate parts of the world (such as Europe and North America). It is estimated that many parts of Africa enjoy (or suffer) an average of 300 days of bright sunlight every year. In fact, temperatures during the day can rise up to 40°C especially in the northernmost parts of the continent which have a savanna or desert climate.
The hot and humid weather conditions in many parts of Nigeria leads to people drinking more of water to refresh and rehydrates their bodies. In short many Nigerians consume more of chilled water (or soft drinks) compared to ordinary un chilled liquids.
Convenience
This is another huge reason why the ice block business is booming across Africa. Truly many people has refrigerators and can afford to cool their own drinks. But, it's not convenient or possible to carry your own cooler everywhere you go. You will likely have to buy drinking water from a vendor who buys ice blocks to cool the drinks he or she sells to customers like you. Fact about ice block is that the more people like you  buy chilled drinks when they are out of their homes, the more ice blocks that are sold.
Another convenient reason why people prefer to use ice blocks is that they are faster and more efficient at cooling liquid. Compared to cooling your drinks in a fridge  or packing them in a freezer when you can't carry your iced drinks from home every where, ice blocks can provide chilled liquid  in any location; whenever and wherever you want it!
 Electricity Challenge
Electricity supply in Nigeria is poor, even if we all had our own refrigerators at home, how would they work without electricity? How many people can afford generators (of a sufficient capacity) to power water coolers refrigerators and Deep freezers? Rather than incur these extra costs, most people prefer to buy ice blocks to meet their household cooling needs (especially food preservation).
Relaxation and Societal Events

There is a rising trend of outdoor events like weddings, religious gathering, birthday parties, clubs, relaxation spots, beach party, and other social gatherings. Our point here is that people gather at social gathering and they are more likely to consumed to consume liquid i.e water, soft drinks and alcohol are best enjoyed when served chilled. This is the reason why these events and relaxation spots are huge source of demand for the ice block business, with the high population in Africa, demand for iced block will continue to rise.
Equipment needed for a start
Ice block is more convenient to produce from home, meaning that you  need a location.
Ice block making machine
Deep freezers and ice block making machines.
Generator that can conveniently power your machine or deep freezers.
A good water source.
Nylon for moulding  ice block
Aluminum made containers for moulding ice block.
There are different types of  ice block machines, there are locally  fabricated machines and imported machines of various capacities, they are differentiated by the number of moulds they can produce, it could be 40 moulds,  60, 100, 120, 200, and it could be as high as1000 moulds.
Machine List
| | | | | |
| --- | --- | --- | --- | --- |
| Model | Capacity/24h | Compressor Power | Pump Power | Refrigerant |
| OTB10 |    1,000kg |      3.8kw |    0.55kw | R22/R404A |
| OTB20 |    2,000kg |      7.5kw |    1.5kw | R22/R404A |
| OTB30 |    3,000kg |      9kw |    1.5kw | R22/R404A |
| OTB40 |    4,000kg |     11.25kw |    3kw | R22/R404A |
| OTB50 |    5,000kg |     18.8kw |    3kw | R22/R404A |
| OTB80 |    8,000kg |     30kw |    4kw | R22/R404A |
| OTB100 |   10,000kg |     37.5kw |    4kw | R22/R404A |
| OTB150 |    15,000kg |      56.3kw |    6kw | R22/R404A |
| OTB200 |    20,000kg |       75kw |    11kw | R22/R404A |
Iced block are of two type, the Anti freeze and the dry ice.
Anti freeze: This ice block is moulded with the use  of chemical like ethanol, and the iced block moulds faster than the normal hours required.
Dry ice: This ice block is formed in nylon without adding chemicals to it, it moulds naturally, this process takes a longer period to mould.
Please follow and like us: